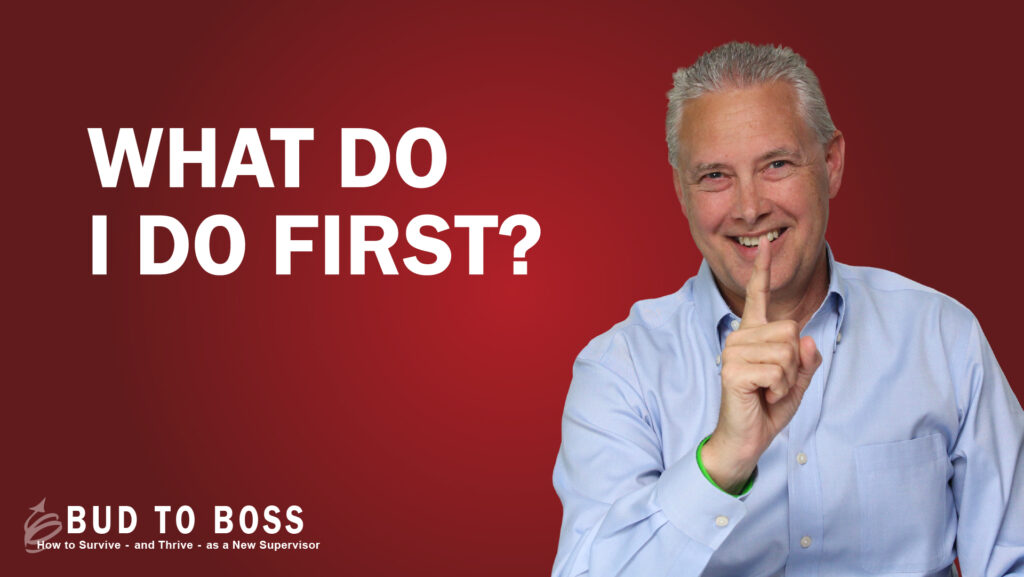 By Kevin Eikenberry
You've got questions and we've got answers. Hi, I'm Kevin Eikenberry answering the questions that new leaders ask us. Actually, it's our goal to help all leaders be more productive successful and confident. And the question I get asked often is what I'm answering today. And the question is, what do I do first? Are you ready Let's get started.
Congratulations. You are now a supervisor. Now you're a leader. I had the chance to work with lots of people in that situation. And the question that they ask is, what do I do first? Where do I start? How do I get on the off on the right foot to be successful? Well, today I have for you three pieces of advice to help you with that.
What do I do? First question. So you've gotten a new job. You're excited about this new job. You're ready to hit the ground running, right? My first piece of advice is slow down You know, there are many mistakes that are often made by people new in leadership roles. And many of them start because they are quick first actions that are taken.
Now, I know that you want to show that you were the right choice. And I know that you want to get off on the right foot. And so you want to make some changes. You want to try some things. You want to do some stuff to which I say awesome, but slow down. Doesn't have to happen on the first day.
We're not running a sprint. Slow down. And while you're slowing down, what should you do next? That's my second piece of advice, and that is to ask questions. Now, I know you got promoted because you're pretty good, and you may be promoted because you're the expert in this particular area and you want to show that and you want to bring that.
And you may have important insights to share and you may be hired, in fact, because you are an expert. Awesome. But you don't know everything, and you don't know everything about this group and this situation and your role. And so ask questions to learn ask questions to understand, ask questions to help you set your priorities, and ask questions to do.
The third thing on the list.
And the third piece of advice I have for you is to focus on people first. It's people that you are asking those questions of. Right? So your new job isn't just about the people, but you can't succeed without support from and a relationship with those people on your team. So focus on them first.
If you were promoted from within and you already know everybody, that's a leg up and that's great. But you need to spend some time making sure that you're clear with them about your new role. But if you're coming into this role and you don't know the people or all of the people, then make that your first focus. Get to know people, start to build a relationship, learn what their skills are, learn what their interests are.
Start there. If you do those three things, if you slow down, ask questions and focus on your people, first. Those are pretty good. Three sets of things to do when you first get the new job. I've got one more thing for you. This is really you. Got one more piece of advice for you and that is to sign up for our video mini course the first 45 days.
It takes you further than these three pieces of advice. It helps you walk you through your first 45 days and your new leadership role to be more successful than you ever dreamed possible. Let me close with today's tweet. How you start in your new role makes a big difference. Start with these three priorities. Don't make drastic changes instantly.
Ask more questions and focus on your people first. If you have a question you'd like me to answer in a future episode. Send it to info@budtoboss.com, that email address will get that question to me and hopefully we'll have the chance to feature your question on a future episode and you can get plenty of other resources at budtoboss.com.
We'll hope you'll do that. You can subscribe here for future videos and of course don't forget to go sign up for the First 45 Days video mini course. We'd love to have you join us there. All the information is on this page and I'll be back soon with answers to your questions right here.
Tweet it out: How you start in your new role makes a big difference. Start with these three priorities: Don't make drastic changes instantly, ask more questions, and focus on your people first. @KevinEikenberry