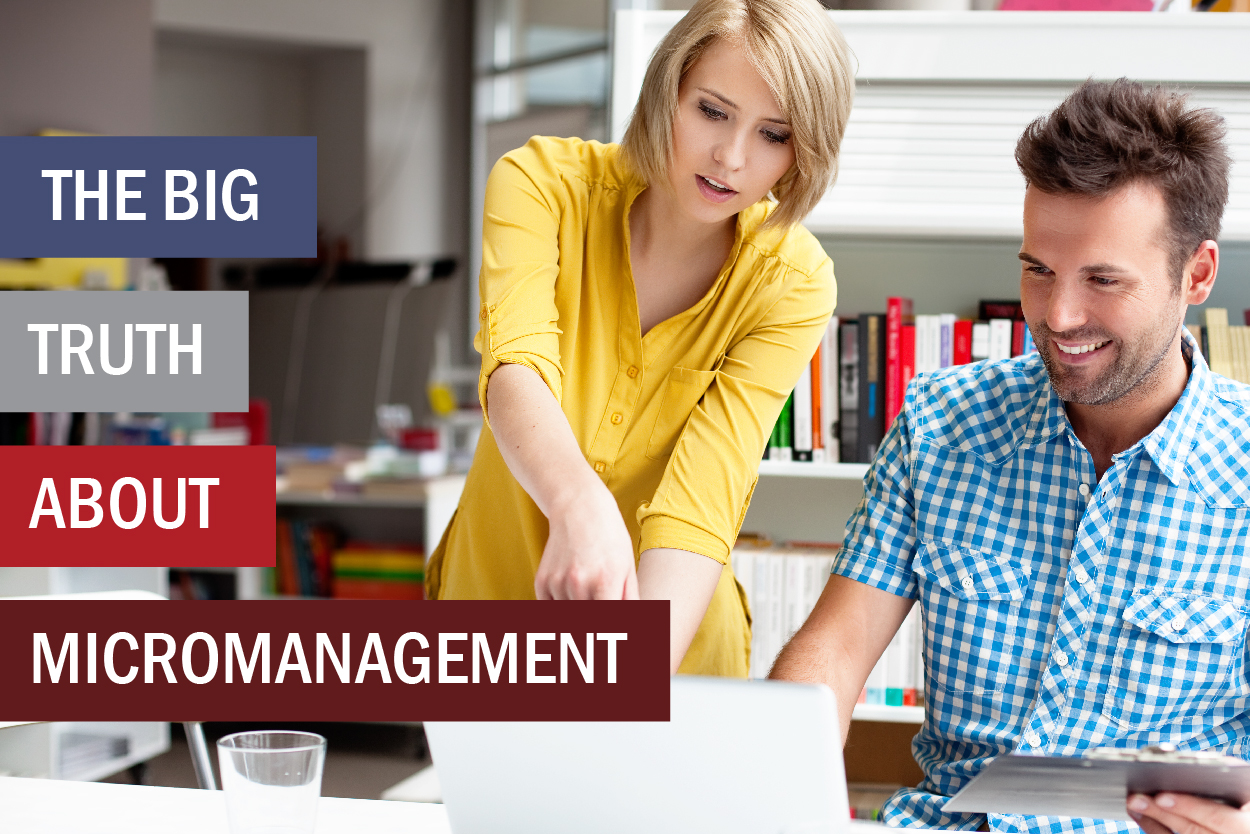 By Kevin Eikenberry
You've got questions and we've got answers. Hi, I'm Kevin Eikenberry answering the questions that new leaders ask us. Actually, it's our goal to help all leaders be more confident successful and productive. Today, I'm answering a question about micromanagement. Are you ready? Let's get started.
I've had many leaders ask me this question. What do I need to know about micromanagement? It's a great question. It's an important question because no one likes it. Right? No one likes to be micromanaged. No one would aspire to be a great leader and therefore, a great micromanager. And none of us like the feeling of being micromanaged, under a thumb, whatever words you might want to use.
No one likes it. Now, let me tell you the big truth about micromanagement that you might not know. You ready? Here it is. The other person decides. What I mean is, we may not have it as our intent to micromanage. We may not think we're micromanaging. But the other person, if they feel like you are, then how are they labeling you? As a micromanager, at least in that moment. Right.
So the big truth about micromanagement is the other person decides. Imagine that you have two people working for you, George and Joan, and you want both of them to be successful. You want to treat them equally. You're leading them in exactly the same way.
George, he thinks you're doing just fine. He thinks you're a great leader. You're giving him the direction that he needs. You're giving the coaching and the feedback that he needs. He thinks you're doing great.
Joan now, remember, you're leading her exactly the same way. Joan, on the other hand, says that you are micro managing me. Well, I mean, that's it to you. But they're saying it to someone like same exact behaviors from you is seen by her differently than is seen by George.
From George's perspective, you're not a micromanager. But from Joan's, you are. You see, the point is, it doesn't matter what you think. It doesn't even really exactly matter what you do. It's how it's interpreted and felt by the other person. Right. So what we have to do is have a good sense of what each of our team members needs.
Ask for a feedback loop so we can make sure that we're not giving them something more than they really want and need. Now, there can be some perception issues on their issues, their side as well, right? Like they really don't want you to interfere at all. But maybe they need more coaching because they're not up to speed yet.
I'm not saying that we should just do exactly what they ask for, but we certainly need to be far more aware of what their perception is and their needs are right. It's also important to recognize that it can be hard for us not to do it. I mean, micro-management isn't something we want to do, but because we've done something many, many times, oftentimes we want to jump in.
Oftentimes we want to give them guidance, which feels to them like we're micromanaging. Right. And the last thing and maybe this is a bit of a cue or a clue along with being situational to help you get better at this. And that is to remember outcome more than method. One of the big reasons that people think we're micromanaging is we keep telling them exactly how we always did it.
Like you did this thing 666 times. Right. So your thing is, man. Here's how to do it. Here's how to do it. If we can help people see what the outcome is, they may not do it exactly the same way as us. So that outcome is where we should focus. Right. And if people really know what the outcome is, chances of them wanting to know what our approach was will actually be higher.
But if we lead with do it exactly this way, it's much more likely to be felt as if it's micromanagement.
Let me close with today's tweet. No one wants to be micromanaged. And most leaders don't think they're doing it. It's the receiver who decides if it's micromanagement, not the leader.
Well, if you have a question for a future video to show up right here on YouTube where you can subscribe, to not miss any future ones. You can ask that question by sending an email to info@BudtoBoss.com, or put it in the comments.
If you're watching this on the Bud to Boss blog, you know, there's all sorts of resources here. We hope you'll take advantage of those. If you find us on YouTube, go over to BudtoBoss.com to learn more. While you're at BudtoBoss.com, you might have a sense of the fact that we have a workshop called the Bud to Boss Virtual Workshop where you can get actionable ideas in a multiple week virtually delivered workshop to help you become the leader you were born to be, even if you're just getting started.