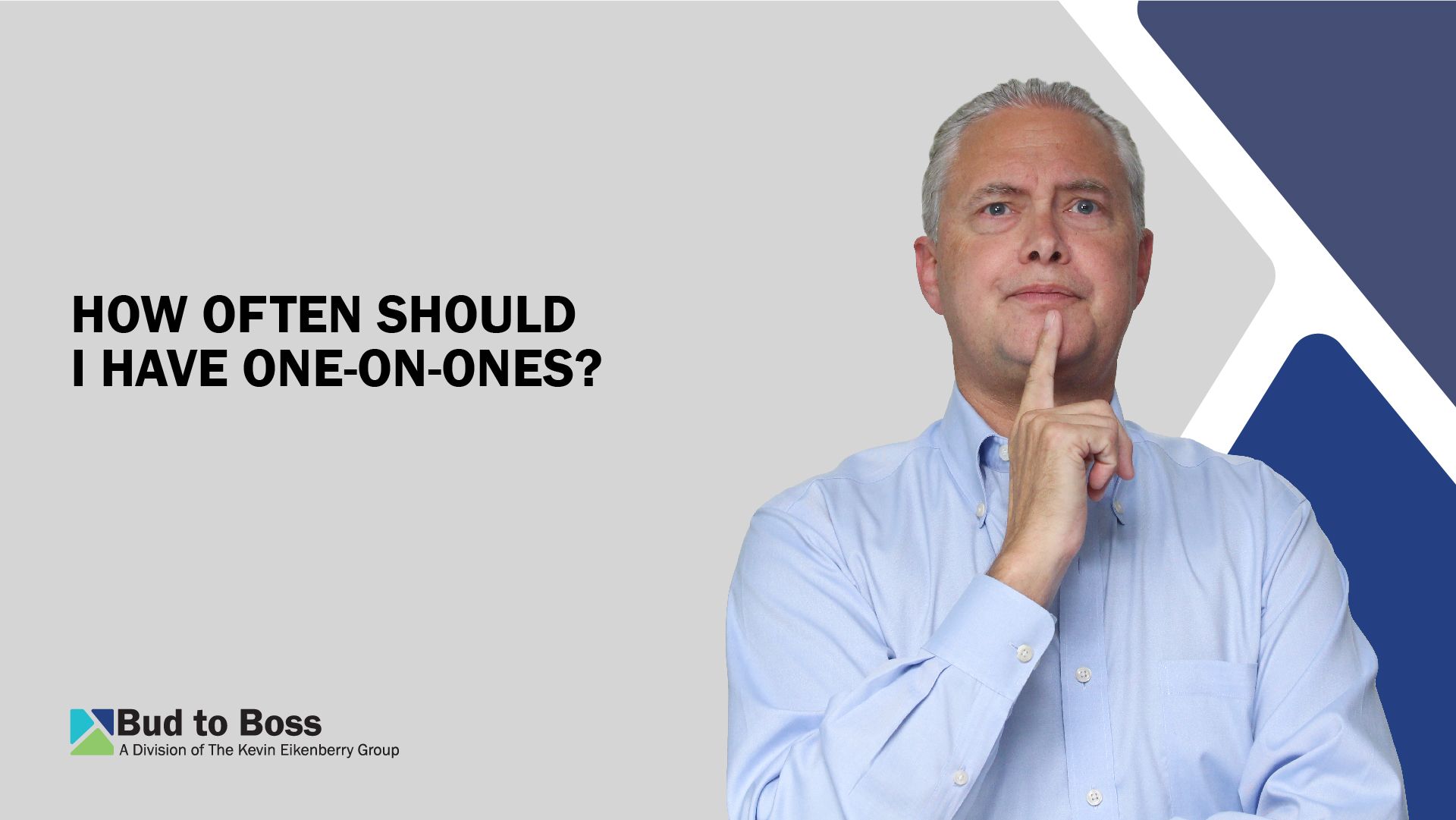 By Kevin Eikenberry
You've got questions. We've got answers. Hi, I'm Kevin Eikenberry, answering the questions that new leaders ask us. Actually, it's our goal to help all leaders be more successful, productive, and confident, and today to help you be more of those things. We're going to talk about the one-on-ones you have with your team members. Are you ready? Let's get started.
I've been asked this question many times, and it's a good question. How often should I have one-on-ones with my team members? How often? And my answer to the question is, it depends. Well, it depends on several factors. The first thing to consider when setting your frequency would be how many team members are you leading? If you're leading just a couple, you have a little more flexibility in frequency than if you are leading 25.
And so the number of team members might play into what your frequency should be. Second, the nature of the work, the nature of the work in terms of if everyone is on board, knows exactly what to do. If the work is more regimented or more policy driven or more procedurally driven, you might not need to do it quite as frequently.
And then lastly, the performance and experience of the team members. This is probably the most important one if you've got really high performers that don't have the need for quite as much input from you, then maybe you can relax the frequency a bit. If you've got folks who are new, who are learning, who need your coaching and encouragement, perhaps some correction, then maybe they need to be a little more frequent.
So the frequency depends on how many folks. The nature of the work and those individuals themselves and their needs. Okay. But just leaving you with an answer of it depends. Doesn't seem quite fair. It's a good question. Is there is an answer. So let me give you an answer and then give you a couple of other thoughts to go with that.
So the depends should start with a starting point, and that is start with a weekly cadence. In other words, say, I'm going to have a meeting with each of my team members once a week. Then look at your depends. Well, maybe I need I can spread it out because of that person's needs. Maybe I need to shrink it a little bit because of that person's needs.
Maybe the nature of the work says I can spread it out. Or maybe I've got so many team members, I can't possibly do one for everybody every week. So start with a weekly cadence and then work from there. Some of the people I lead, I have a scheduled weekly one-on-one. Others are different. Right. And then adjust with individuals.
Now I've said some things to think about how you might change the frequency. But I want you to include them in the decision making, too. So you might say so. Adam, how often would you like us to meet? Some people aren't used to having that kind of engagement in this conversation or in this decision. Some of them might not even be used to having a one-on-one.
We're going to have them. And now you're asking Adam what he thinks, and you don't necessarily take his opinion, but you want to take his opinion into account. And so if he says once every three months, that doesn't mean you need to do it once every three months. Right. But it means that maybe he doesn't know what these meetings are going to be about or how they can be helpful.
Or if he says, hey, I'd like to meet with you every two days. You might say, Maybe not. So either way, I want to engage them in the decision about frequency or cadence, because it will help with the next point, which is this is their meeting, too. So make it their meeting, too. This is a one-on-one with them.
So if it's Adam and I, it's Adam's meeting at least as much as it is mine as his leader. So make it their meeting to include them in it. I expect them to plan for success in it, etc.. And then lastly, be consistent. If you've decided that you're cadence's weekly, for example, then make sure that you stay on that path.
Maybe with that person, it's always going to be Tuesday at 2 p.m., or maybe each week you're going to decide the time for the next week or whatever the interval is. Some of my team members, we have a standing meeting. Others, it's sort of determined each week in terms of when we're going to meet the next time. But be consistent and make sure that if you've scheduled a meeting that you make sure you're available for those meetings.
So how often should you have one on ones? Number one, make sure you have them. And second of all, come to a frequency that makes sense for the work and the person doing that work.
Let me close with today's tweet. Want better results and better relationships, have more frequent one-on-ones with your team members. I hope you found this valuable and interesting and useful.
Most of all, I hope you take action on what you just learned. If you have a question that you'd like me to answer in a future episode, you can click the link here to get to give us that information. Or you can send an email to info@KevinEikenberry.com if you'd like to be more anonymous.
There are plenty of resources here on BudtoBoss.com. Hope you'll take advantage of those, and you can certainly subscribe to future videos as well. So you don't miss any of these in the future. Hope you'll do that. I look forward to talking to you soon.