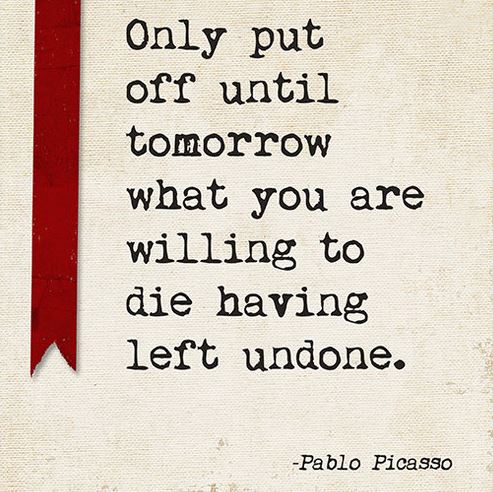 We all procrastinate sometimes. Some people make it a way of life. Either they put off tasks they dread or they simply thrive when producing work at the last minute.
Many people, however, wish they procrastinated less. They scold themselves for creating unnecessary stress or regret their time management when they produce less-than-stellar work.
Of all the comments I've ever heard about procrastination, Picasso's quotation is the most serious and stark. Perhaps, it will jolt you to be a bit more productive today, and in the future.
Ask yourself:
How am I procrastinating?
What am I putting off for tomorrow (or Monday) that I could be doing today?
What goals am I pushing aside because I don't want to take the first step?
What challenges or discomfort am I dealing with because I don't want to confront it?
What tasks linger on my to-do list that are weighing on me?
Am I working daily toward my dream?
I have an interesting set of feelings around the idea of procrastination. I know I do it. I do it more than I want to/wish I did. And yet many people tell me I get more done than anyone they know. Maybe it is because I have set such a high bar and expectations for myself that I continue my internal struggle with procrastination.
Today's quotation gives me a new perspective. It helps me remember two things: I can't do it all everyday, so I must pick the most important things. It also prompts me to get done the nagging things. You know those items, the ones you move from your list day to day, week to week, and they weigh on your psyche. I don't want to live with those kinds of thoughts, so I'm going to get one of those done each day, too. I recommend you do the same.
Regardless what day or time of day you're reading this, take a few minutes right now to create an action plan:
Determine the most important thing you must do today. It could befinishing a task, making time for your kids, setting aside time to work toward a long-term goal, or something else entirely.
Decide that you are going to do it. Make it the thing you focus on, and do what you have to do right now in order to make it a priority.
Don't sleep until you've done it. This part is key. The intention is not enough. You have to make things happen.