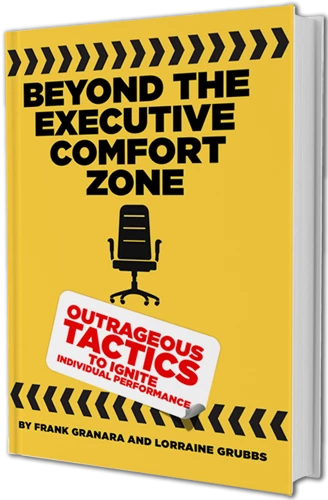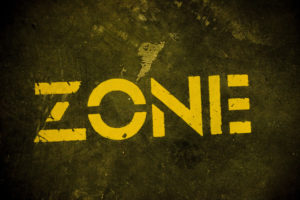 This is a guest post by Frank Granara and Lorraine Grubbs, co-authors of Beyond the Executive Comfort Zone: Outrageous Tactics to Ignite Individual Performance.
Wake them up … shake them up … make them a team.  As a new leader, bring a fresh perspective to your people by applying outrageous tactics to employee development. Step outside the "training as usual" box and bypass traditional approaches, and you will dramatically raise the level of your team's performance.
What does that look like?
Take your team to a comedy club and have them experience what it's like to think on their feet using "improvisation."
Walk them into a playhouse, dress them up as world-famous leaders and have them discuss current events. (As an example, what would Patton say about the wars in the Middle East, or how would Thomas Jefferson change his views on the constitution in today's politically charged environment?)
Without any warning, escort them into a room full of strangers and have them make a speech on a controversial topic.
Try hiking up steep mountain trails in the early morning darkness to greet the sunrise then return down the mountain on horseback.
Imagine having individual team members walk down the yellow brick road, joining the Scarecrow, Tin Man and Cowardly Lion as they seek to ask the Wizard of Oz for the "one thing" they need to make them successful.
By stretching people outside of their physical and emotional comfort zones, they tend to retain more lessons because adults tend to learn when they're uncomfortable. For example, if they dress up in costumes, as any actor knows, they could be willing to try things they normally wouldn't. Or by facing one of the greatest fears, public speaking, they may exhibit courage and learn to think on their feet. Those are lessons they will not forget.
Think about it: What are some of the "aha moments" you've had as a result of pushing yourself to try new things? How did those moments help you become the leader you are today?
Begin your leadership journey with a series of creative, outside-the-box training sessions to truly motivate your employees to higher performance.
Frank Granara and Lorraine Grubbs are co-authors of "Beyond the Executive Comfort Zone: Outrageous Tactics to Ignite Individual Performance" (www.executivecomfortzone.com). In the book, you'll read about the unprecedented results that one CEO experienced when he took his own team into the outrageous zone. Granara is CEO of General Insulation Co. and has a bachelor's degree in business from Northeastern University. Grubbs is president of the consulting firm Lessons in Loyalty. As a former 15-year executive with Southwest Airlines, she takes principles and practices she helped develop to companies that strive for better employee engagement and loyalty.