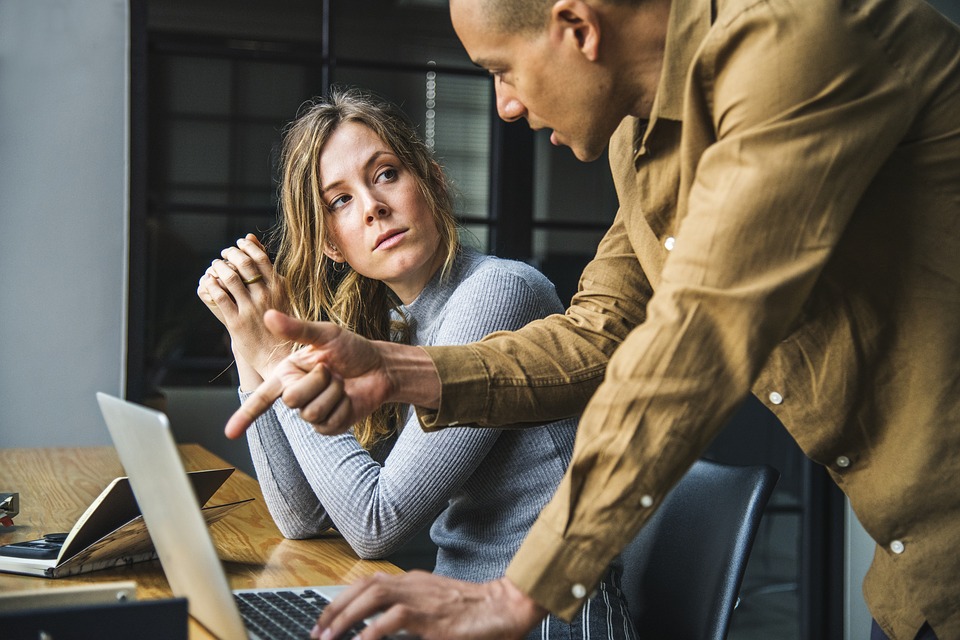 This is a guest article by Charlyne Meinhard.
You can hire the right employees, but if you don't manage them well, those good employees may wind up messing up, rather than stepping up.
Consider this scenario: Jen and Tim are managers of two totally different functions within Mid-Road Company, but they share the same frustrations about their employees.
"You won't believe it!" Jen grumbles over her morning coffee in the company cafe. "We've got to rework the entire proposal that Ronald turned in! I paid for his overtime last week to get it finished, and today I find he didn't follow the prescribed format. I'm so mad at him for making us miss this deadline!"
Tim nods and snorts, "Yeah, my employees are worthless, too. They all start out so upbeat and sunny, but it doesn't take long before they're upset and slacking."
Quick to blame their employees for mistakes, these two managers seem blind to their own failure to give needed direction and encouragement to their employees. They don't see how much their poor management skills are contributing to their employees' low performance.
Bad managers are everywhere. Like Jen, they may be new to managing others or, like Tim, may have been promoted reluctantly into management. Luckily, you don't have to be a Jen or Tim.
Three decades of field research with 100 mid-large size U.S. organizations across a broad industry cross-section give us these seven key behaviors of managers that encourage good employees and help them become top performers.
C

hallenge employees with new opportunities. Jen pigeon-holed her employees into routine tasks and offered little chance for them to learn new skills. Jen will apply this better management skill when she identifies which employees are ready for cross-training, are excited to take on additional tasks, or show interest in growth opportunities.

R

ecognize results in real time. Tim was so immersed in his own work that he ignored the daily accomplishments of his staff members. With management training, Tim knows to observe employees' on-the-job performance and praise an employee's good results at the time of achievement. Employees feel appreciated for their efforts and want to achieve even more.

E

nsure a healthy rate of change. Jen regularly changed directions to her employees several times a day. She improved when she stopped passing down knee-jerk reactions that confused employees and drained their confidence. She now holds short "huddles" every morning with staff to clarify goals and direction for the day.

A

dopt an open climate. Tim would spout the company statement of "open-door policy," then sputter when no employee would approach him about issues or concerns. He began setting specific times to meet with each employee each week. Tim is now more accessible, and his employees feel empowered to list their questions and issues to cover in their weekly 30-minute individual meetings.

T

ranscend the goal of making a profit. Previously, Jen hammered cost-savings so much that her employees began taking short-cuts on time and quality. She saw a bigger picture once she read and discussed the company's annual report with her director. Jen now heightens employees' awareness of their role in customer perception and long-term satisfaction. Employees respond readily to meeting and beating customer expectations. They are more committed to accuracy, completeness, and timeliness.

E

ncourage flexibility and innovation. Before his "field trip" to key client sites, Tim demanded that his employees follow the same pattern of processing orders established years ago. Seeing and hearing client problems in real-time opened Tim's eyes to the need for his department to change. Tim now regularly initiates problem-solving discussions with employees. They are energized by the opportunity to contribute and often surprise him with practical solutions that he never would have thought of on his own.

S

trengthen employee strengths. A significant step forward into good management for Jen and Tim was learning to set individual goals for employee development. Complaining in public about faults previously dominated their interactions with employees. Private discussions on performance strengths now have Jen and Tim working positively with each employee. Building a strength-development plan offers more insight into each employee than either of them imagined.
"Haven't seen you around the café for quite a while," exclaims Tim when he sees Jen. "Would you believe my employees just presented to our director the new processing system they designed? I never thought they had it in them, but my extra attention has sure increased their productivity."
"Yeah, who knew?" exclaimed Jen. "We're seeing some real improvements in my area, too, since I've been communicating more with my employees. They're actually a good bunch, some with potential that I didn't see when I used to complain about them," she admits.
How about you?
Think about yourself as a manager. Do you use the kind of management skills that will help your employees be the best they can be?
ALL employees and managers need to be the best at their jobs, becoming highly productive problem-solvers who help grow the business. Focus on applying the tips above and you will upgrade your management skills for today's world. You'll create better employees, get better results and have less rework and frustration for yourself.
About the author: Charlyne Meinhard is a speaker, trainer and Chief Results Officer of Next Level Consulting, a consulting firm specializing in change leadership, talent development and innovation. With more than 20 years of experience, Charlyne inspires and teaches managers to lead successful changes in organizations like Verizon and SunTrust. She is also the author of Change Agentsto the Rescue! and Ahead of Change. To find out more about Charlyne's speaking and consulting, click here.