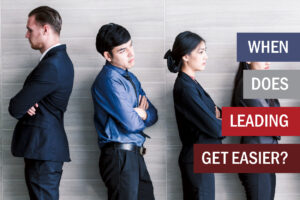 By Kevin Eikenberry
Leadership is hard work. You may have heard or read me say it – and chances are you have experienced it – the transition to being a leader is likely the hardest transition of your professional life. To do it well requires dedication, discipline, attention, and a lot of skill. Then, the natural question is – when does it get easier?
I'll answer that question in two parts.
Like anything, the more you practice doing things, the easier they will become.  So, when, as a leader, you know the right things to do, and keep doing them, it will get easier.
But will it ever be easy?
Not so much.
As a leader, you are trying to lead towards objectives and goals that may be a stretch – if it was easy, it would have already been achieved.  And you are doing with and through other people. You know human beings who are amazing and talented, but also unpredictable and messy. If you stop being surprised by how someone might react, or how they will communicate or produce, you aren't paying attention. Leading may get easier over time, but since it is a complex activity, it will never be easy.
Where does that leave you?
Because leadership is hard work, if you want to be effective, it leaves you with a lifetime of learning and growing.
If you are expecting it to get a bit more comfortable and easier with time, that is a realistic expectation (if you practice the right things).  But expecting easy, means you will settle for being a mediocre leader at best.
If you choose the first option, there are plenty of resources right here on this blog or on the social media channels at the bottom of this page to help you. We hope you will come back and/or follow us. We'd be honored to be a part of your journey of leadership success.