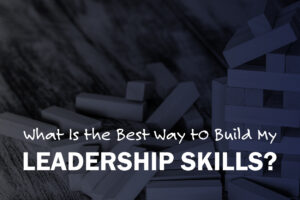 By Kevin Eikenberry
What is the best way to build my leadership skills? It is a question I hear often. It is an understandable question that comes from a great intention. And I hate the question. I don't hate the intention behind it – in fact I love it. But the question itself? Not so much. Let me explain.
This question is like so many other questions that I frame as the desert island question – "If you could take only one book <insert something else in here if you like> to a desert island, what would it be?" The problem with the desert island question – is the fallacy of one.
What is the best way to build my leadership skills? The question implies there is one best answer, one magic pill. My short answer is:  there isn't one best way, and it depends. That doesn't make for a very satisfying or helpful blog post, so let's dive in a bit further.
"The Best Way" is the Wrong Solution
The goal to "build my leadership skills" is admirable, and I've spent the better part of my life helping people do that. But there isn't only one way. Here are some of the possibilities to consider:
Attend a workshop (virtual or in-person, inside or outside of your organization)

Attend a conference

Attend a webinar

Complete some eLearning (that you find or is internally available)

Read (or listen to) a book 

Read a blog

Listen to (or watch) a podcast

Watch a video

Find a mentor (internally or externally, a peer or someone who is more experienced than you)

Ask your team or leader for feedback (informally or through a 360 Assessment)

Get coaching (internally or externally)
The point is – there isn't one solution. Your "best way" will likely be a combination of these options – and at some level – the more the better. Your goal is to look at that list and see what will best help you right now. What is available to you, what fits into your work and life? But now I am getting ahead of myself … 
Why Does it Depend?
In the end what is the best solution (or combination) for you depends on you. It depends on factors like:
Your specific needs

Your level of urgency to improve

Your learning style

What is readily available to you 
While these and more matter a lot – remember that the more specific you can be, the better. "Build my leadership skills" is pretty general.  Be a better coach, delegate more effectively, lead change more successfully – are all more specific and will help you "build your leadership skills" faster – and help you determine what your personal best way(s) to do that might be.
….
If you feel a workshop approach would be useful in your development as a leader,  Join us for the virtually delivered Bud to Boss Workshop. In just two hours a week seven weeks you can learn new skills (including how to give feedback effectively) and apply them as you learn. You can learn more and register here.