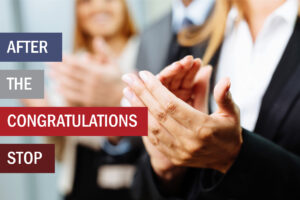 By Kevin Eikenberry
You've gotten the promotion – perhaps the one you have dreamed of for a long time. You have moved from individual contributor to leader. While some might be jealous, mostly you have been congratulated on your new role. But after the congratulations fade the reality sets in – you have a new job, and you aren't exactly sure where to start. If you are asking – Now what? It's a good sign – it shows you are self-aware enough to know that your work now looks different than it has before.  
If this is your situation, here are five things to do right now:
Take a deep breath.

Hear and feel the congratulations but recognize now that there is work to be done and things to learn. If you are feeling some stress and pressure, it is natural.

Be humble.

Yes, some people believed in you, that is why you are in this position.  But one of the best things you can do now is to be humble. Confidence is important, (

here is one reason why

), but if you have ever had a leader who seemed full of themselves and was unable to admit a mistake, you know that taking that approach won't serve you in your new role.

Be a learner.

There is plenty you don't know about your role, your people, and how to lead. The best thing you can do now is decide to be a learn. Be curious. Ask more questions. Read material (like this blog) that will help you. Know that you are not alone, and there are many resources available to help you learn. As just one example, our book

From Bud to Boss

 was written for you.

Grant yourself some grace.

You won't get it all right the first or second time. When you realize that this new role is more complex with more dimensions (including more work with more humans!) than you have experienced before, you will set yourself up for better success. That first suggestion about taking a deep breath? You might want to use it often.

Leverage your first 45 days.

You've heard the phrase; you don't get a second chance to make a first impression. You also don't get a second chance to start well with your team. I recommend you focus on the first 45 days as a great timeline to get off on the right foot.  We've created a  free video mini-course,

Your First 45 Days as a Leader

. Five videos giving you specific concrete steps you take during this critical time. If you are in this transition yourself, consider this our gift to you. If you want to help other leaders you know – inside or outside of your organization – get off to a great start in their new or next leadership role, share this with them.  You can get registered and get

started here.
These five actions will help you make the important and sometimes scary transition from individual contributor to leader more successfully and with greater confidence.