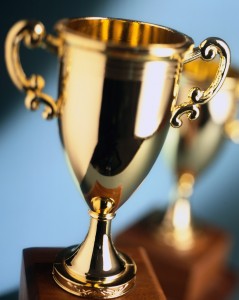 Admittedly, I am a competitive person in just about every facet of life. Ask those who've known me my whole life and you might even hear some stories of competitive board and card game play that I'd prefer not be repeated. While I was taught to be (and think I mostly am) a good sport, my focus was most always on winning. And looking back, I can point to both the power and the pitfalls of my competitive nature.
This exploration and self-examination as well as a lifetime of observations have led to some specific beliefs about competition:
Everyone is competitive at some level and in some ways.
The intensity of your competitive feelings drives your thoughts about competition.
Your thoughts about competition and your competitors influence your behavior.
Your behavior leads to your results.
You've reached a leadership position, so chances are, you have a strong will to succeed and beat out the competition. That's the reason you are where you are. Additionally, you may want to use a healthy dose of competition to push your people to reach their full potential.
Just remember: Competition and a competitive spirit can be one of the most powerful productivity levers – or one of the most destructive forces – at work. The key to harnessing that power is to understand it and learn how to use it productively.
Since competition can impact our results, it makes sense to me to view it as a gift that we have been given. How we use and direct our competitive nature is determined by four components that make up the word GIFT.
Goals. Competition is defined by goals. The goals you choose are critical to harnessing the power of competition. Having a goal – a profit target, grade, score or time – sets the stage for competition, regardless of who you are competing against.
Intent. Your intent will determine how you compete. If your intent is to win at all costs, your behaviors will be different than if you want to do your best or improve on a past performance. Both intents produce a result, however, the latter will likely produce a better, healthier and more sustainable long-term result.
Focus. This is who you are competing against. You can view yourself, others, other teams or other companies as your competition. There is nothing wrong with healthy competition. Just make sure the focus is on overall goal achievement, and not just winning for the sake of winning. Don't stunt teamwork, hurt relationships, cut corners, cheat or sabotage others' efforts just to come out on top.
Timeline. This is where you place the finish line. Do you consider it winning only when you reach a major goal, or can you celebrate small wins along the way? If you want to win an Olympic medal, you would have many competitive finishes before reaching that large goal, wouldn't you? While you can have (and need) the long-term, big, competitive aspiration, you must create many smaller, intermediate opportunities to win along the way.
Take some time to consider the role that competition plays in your life at work and as a leader. Competition is truly one of the most powerful human forces. As a leader, as a teammate, and as an individual, it is important to consider how you can use this competitive fire to create the results you really want.