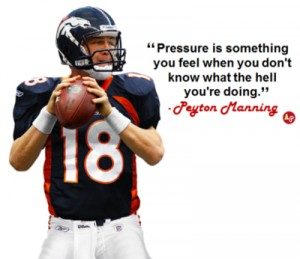 Football officially starts next week, folks. Today, I will share one of my favorite quotes from, undoubtedly, one of the greatest quarterbacks to ever play the game. Perhaps his quote "Pressure is something you feel when you don't know what the hell you are doing" tells us why that is.
Prior to retiring this year, the two-time and reigning Super Bowl Champion had broken records and excelled on the field for 18 seasons.
While you may not take the field any time soon, you will experience big moments that may make you feel like you are going to buckle under the pressure. Today, spend some time thinking about that by asking yourself:
When do I feel pressure most often?
Why do I think that is? What is the common denominator?
Knowing that, what could I do to reduce the pressure I feel next time?
Then take these steps:
When facing your next potentially pressure packed situation, prepare more .
Focus on the performance more and the context less.
Remember your purpose in the situation, and take a deep breath.
I hope you think about this quote during the coming days as everyone will hear and read about football, even if you aren't a fan. Peyton is one of the best ever, and he'll be missed on the field this year. Of all the attributes that made him one of the best, his devotion to preparation is probably most important. In his own words, he knew what the hell he was doing.
Do you?
Are you preparing for your pressure packed situations as completely as you could? Have you practiced the presentation? Do you know the people around the table? Have you thought about all the options? Do you have the relevant data? Have you researched or investigated enough?
In other words, where do you need to put in more effort?
If you want to reduce the feeling of pressure and improve your results, make sure you know what you are doing, whatever the situation.