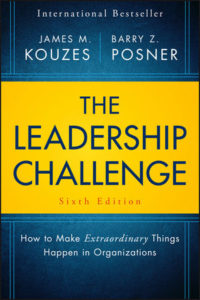 Regardless your age, industry, background or level within the organization, if you want to be a truly great leader, there are five core principles that will guide you to be your very best, according to Jim Kouzes and Barry Posner, who have just released the sixth edition of their bestseller The Leadership Challenge: How to Make Extraordinary Things Happen in Organizations.
Jim and Barry first asked ordinary people in the early 1980s to tell them what they did when they were at their "personal best" in leading others. They found that despite differences in culture, gender, age, and other demographic variables, the stories leaders came back with revealed similar patterns of behavior. They then published their findings in 1987 in the debut of The Leadership Challenge. Barry adds, "Though each experience was unique in its expression, there were clearly identifiable behaviors and actions that made a difference."
So what are they? Here, excerpted from The Leadership Challenge, is a quick overview of The Five Practices:
Model the Way
Titles are granted, but it's your behavior that wins you respect. Exemplary leaders know that if they want to gain commitment and achieve the highest standards, they must be models of the behavior they expect of others. That said, leaders' deeds are far more important than their words when one wants to determine how serious leaders really are about what they say. Words and deeds must be consistent. Exemplary leaders set the example through daily actions that demonstrate they are deeply committed to their beliefs.
Inspire a Shared Vision
People talked about their personal-best leadership experiences as times when they imagined an exciting, highly attractive future for their organization. They had visions and dreams of what could be. They had absolute and total personal belief in those dreams, and they were confident in their abilities to make extraordinary things happen.
To enlist in a shared vision, people must believe that leaders understand their needs and have their interests at heart. Leaders breathe life into the hopes, dreams, and aspirations of others and enable them to see the exciting possibilities that the future holds. Leaders forge a unity of purpose by showing constituents how the dream is for the common good.
Challenge the Process
Leaders venture out. Leaders are pioneers. They are willing to step out into the unknown. They search for opportunities to innovate, grow, and improve. Exemplary leaders also know that innovation and change involve experimenting and taking risks. One way of dealing with the potential risks and failures of experimentation is to approach change through incremental steps and small wins. Life is the leader's laboratory, and exemplary leaders use it to conduct as many experiments as possible. Try, fail, learn. Try, fail, learn. Try, fail, learn.
Enable Others to Act 
Leaders make it possible for others to do good work. They work to make people feel strong, capable, and committed. Exemplary leaders strengthen everyone's capacity to deliver on the promises they make. When leaders enable people to feel strong and capable—as if they can do more than they ever thought possible—they'll give it their all and exceed their own expectations.
Encourage the Heart
It's part of the leader's job to show appreciation for people's contributions and to create a culture of celebrating values and victories. Recognition and celebration aren't about fun and games, though there is a lot of fun and there are a lot of games when people encourage the hearts of their constituents. Encouragement is, curiously, serious business. It's how leaders visibly and behaviorally link rewards with performance. When striving to raise quality, recover from disaster, start up a new service, or make dramatic change of any kind, leaders make sure people see the benefit of behavior that's aligned with cherished values.
So what's the bottom line? Leaders who more frequently demonstrate those practices create higher performing workplaces and have significantly more engaged employees than leaders who demonstrate the practices less frequently.
James M. Kouzes and Barry Z. Posner have been working together for more than 30 years, studying leaders, researching leadership, conducting leadership development seminars, and serving as leaders themselves in various capacities. They are coauthors of the award-winning, best-selling book The Leadership Challenge: How to Make Extraordinary Things Happen in Organizations. For more information, please visit the book's page on www.wiley.com.