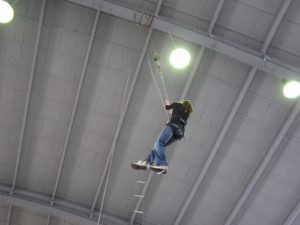 Rising to the top and being effective when you get there requires much more than a cutthroat attitude and a controlling, authoritative style, says Katherine Ludwig, coauthor along with Ed Hess of Humility Is the New Smart: Rethinking Human Excellence in the Smart Machine Age."
In fact, say the authors, more and more studies are finding that the exact opposite traits and behaviors are what really create effective leadership.
These studies point to a growing need for innovation, collaboration, long-term performance and characteristics like a quieter ego, open-mindedness, empathy, and choosing to listen instead of rushing to speak.
So what qualities should you develop and enhance if you want to be an effective leader? The authors pinpoint these critical ones:
Collaborative, not overly competitive
At work, too much competition impedes collaboration, learning and innovation. Studies from MIT and others have shown that teams with more collective intelligence (CI) are more effective and that CI is associated with emotional intelligence, social perceptiveness, and sensitivity of group members—not confidence or even IQ of individual members.
"In the long run, it won't help you to view your peers as competitors or to focus on proving how much better you are than everyone else," says Hess. "Those who focus their attention outward on supporting, encouraging and collaborating with others will find that it leads to more success."
Humble, not entitled or arrogant
You have to leave your ego at the curb and worry less about protecting your image if you want to reach higher-level thinking, boost creativity and innovation, and build emotional engagement. Be honest about your strengths and weaknesses, show a willingness to make mistakes, and focus more on others than yourself. "These are the psychological hallmarks of humility," says Ludwig. "Humility frees you to think, learn and be more creative and collaborative."
Open-minded, not stubborn
Perhaps no quality is more important than being open to others' ideas, but in order to do so, you must let go of your own biases and truly listen to what others have to say. Listening to and accepting other viewpoints are critical to your growth and development, to reducing conflicts and to resolving problems quickly. Additionally, critical thinking, innovation, and collaboration require you to be open to new ideas and perspectives, test your beliefs, and dig deeper for information that could counter your ideas.
"Listening, rather than interrupting with our own arguments or 'telling' what we think we know, helps us get past our biases and make better decisions," explains Hess. "This skill requires constant vigilance, which can't happen if you are arrogantly outspoken or constantly demanding to be heard."
Kind and compassionate, not unfeeling
You should be mentally, physically and emotionally tough as is required of your position, especially during difficult times. Just don't mistake toughness with being cold, competitive, impersonal and business-like.
"In our culture, kindness and compassion are often equated with weakness and being taken advantage of … This is a misconception and it will have to change," says Ludwig. Adds Hess, "We should all make daily commitments to work harder at maintaining humility and taking our social and emotional intelligence to a higher level—regardless of gender, job title or industry."
About the Authors:
Ed Hess, Professor of Business Administration and Batten Executive-in-Residence at the Darden Graduate School of Business, and Katherine Ludwig are the authors of the new book Humility Is the New Smart: Rethinking Human Excellence in the Smart Machine Age), which puts forth a new model called NewSmart, designed to help humans thrive alongside technology in the Smart Machine Age. For more information, please visit www.edhltd.com and www.katherineludwig.com.
Photo Credit: http://www.freeimages.com/photo/climber-1214314