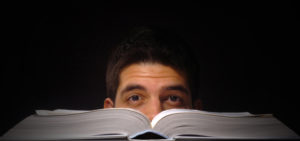 Michael Hyatt builds a pretty compelling case for why leaders should be voracious readers in his post 5 Ways Reading Makes You a Better Leader, and he is not the only one touting the benefits.
Many experts believe that reading is a major key to your success as a leader, and I agree. Reading improves your knowledge and skills, sharpens your mind, helps you to decompress and unwind, and more.
However, all reading isn't created equal, especially when it comes to reading meant to teach you something. If you are merely skimming content without taking time to process it, figure how to apply it to your own life or simply reflect on it, you aren't gaining much from the time you spend reading.
So to truly learn and benefit from what you read, follow this advice:
Read with purpose
Any speed reading or reading acceleration program will teach you to scan a book before starting to read it. While the techniques are different depending on the program, the basic scanning concept is to look over the book, read the table of contents, and scan the chapters, subheads and sidebars first. Using that strategy gives you a sense of the book, its purpose and messages, and its layout before you begin.
While that will help speed your reading, it also helps you answer "What do I want to get from this book?" Spend a few minutes after your initial scan thinking about what you hope to learn.
While books can surprise you with knowledge or ideas you didn't expect (one of my great joys in reading), when you have established a clear purpose at the start, it will help you maximize what you can glean from a book.
Read like a student
In your high school or college days, you likely highlighted in your books key passages that you felt you would be tested on later. Apply that same strategy to the books, magazines and articles you read now. Highlight ideas that you can use, write questions in the the margins, and scribble notes or thoughts regarding a point the author makes. That way you can revisit those sections later.
Keep your goals in mind
As you read, keep thinking about questions like:
How can I use this?
How does this relate to my personal and organizational goals?
What is the big message for me here?
That makes the content more meaningful to your situation and helps to ensure that you can apply it later.
Look for the action steps
Some books specifically outline the steps you should take or tips for applying the advice. Still, you will need to apply the author's advice to your own situation. As you work through the book, determine what advise you can actually use and the actions you can feasibly take.
Transform your ideas into action
If you want the ideas, strategies and breakthroughs from any book to make a difference, you aren't done when you read the last page. Your most important task is just beginning. Take all of your notes and ideas and capture them in your journal, in a notebook or in a computer file. That review process is important to help you lock in the knowledge you gained from the book.
Hopefully, you've received many great ideas from the book. Your job now is to prioritize the best, most important and most valuable actions you can take as it relates to your goals. This is key. If you don't focus on a few top actions, you may become overwhelmed by the number of ideas and ultimately do nothing. (By the way, that is what most of us do and is one of the reasons I wrote this article to start with).
If all this seems like work, that's because it is. But if you want to experience growth because you read the book, you must engage in an active process of learning.
Of course there will be times you "just want to read," and that is absolutely fine. Reading can be a hobby and a pleasurable pastime, or it can be a conscious approach to learning and growth. In order to make it the latter, you must adopt strategies that help you take what you learn and translate it into ideas and action.
Photo Credit: www.freeimages.com/photo/book-1623893