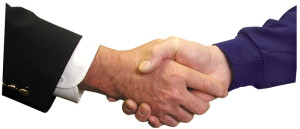 Conflict is a topic that often comes up when I talk with leaders. More and more organizations are making the decision to include conflict management in their training curriculum, and with good reason.
Conflict is unavoidable. You will never be able to "put an end" to disagreements, hurt feelings, misunderstandings and bad moods in the office. People are going to disagree, and that can actually be really good for business because ideas and plans tend to be stronger when people openly communicate their concerns and fight for what they believe in.
Therefore, you need to start seeing conflict as not something to be avoided or immediately "resolved" but something to be understood.
As a leader of others, you will always find that people see things differently. If your people aren't opposing one another's views at least some, they aren't sharing their true feelings. That is actually a big cause for concern because people are simply going with the status quo instead of challenging it. So you should definitely welcome healthy conflict, but ensure that the conflict remains healthy, follow this advice:
Don't allow disagreements to turn hostile. Conflict can only be healthy if teammates remain respectful and civil to one another. If employees are heated, starting to raise their voices, or simply seem agitated, take a 10-minute break and reconvene when people have calmed down a bit. Don't be afraid to call out individuals who are becoming rude or angry, either. A direct statement, such as "Tim, please allow Christy to finish" or "Everyone, please lower your voice" can de-escalate a situation quickly.
Refocus everyone on your goals. Emotions and personal agendas can lead people off course. Remind everyone of your common goal, and restart the conversation with that goal in mind. Ask everyone to keep the overall goal in mind as you move forward.
Mediate disputes privately. Two warring teammates' resentment and anger can disrupt the whole group, forcing employees to take side, affecting team collaboration and more. When you are aware that two employees are struggling to get alone, immediately schedule a meeting with them to work on resolving the issue and improving the relationship. Remain an unbiased, neutral mediator that is there to talk through the problem and have them commit to making improvements.
Remember: Learning to help others welcome and see conflict as a way to learn and make better decisions is one of the most important skills you can master. Don't run from conflict. See it as an opportunity to strengthen your team.
Don't let conflict destroy your leadership efforts. Bud to Boss prepares you for it by teaching you ways to address it and then neutralize it. Learn more here.
Photo Credit: http://www.freeimages.com/photo/handshake-1239869