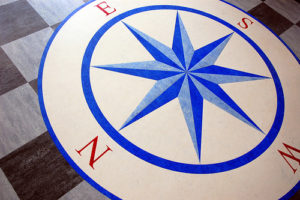 This is a guest post by Phil Gerbyshack, a trainer and speaker.
If you're a boss, one of the most important parts of your job is giving directions. Whether you're training, coaching, or assigning work, it's critical to do the job right.
If you think about what you do when you share travel directions, you'll do a better job with supervisory directions. Here are some tips to remind you of what works.
Choose your words carefully. Use the language that works best for your team member and what they prefer. Some people prefer left/right directions. Others would rather have North/South. Some like distances in miles, but others prefer "About thirty minutes." Sometimes the situation or location calls for special language. And there are local usages for travel directions. If you go "to the city," it might be San Francisco or London. And, in New York City, "the city" is the island of Manhattan. You find the same kind of special language at some companies or in some industries.
Supplement your words if you can. Words are good, but if you can supplement them with diagrams (maps) or demonstrations, you're more likely to be effective. Act things out. Provide examples.
Use a variety of methods. I love my GPS, but I always work things out on a map before I travel to someplace new. Some people prefer to simple listen to directions. Others prefer them written out. Still others want something they can refer to if they find they didn't follow your verbal instructions correctly.
Check for understanding. If you don't check, you can only assume that you communicated perfectly, and you could be wrong. Confirm that the employees understands what you want him or her to do.
Follow up to be sure. Even if your team member understood perfectly when you gave your directions the first time, it may not last. Check in later to ensure he or she isn't experiencing any issues or confusion.
It's just the way humans work that we can think we understand until it's time to actually follow the instructions. Couple that with the fact that you, the boss, can't possibly think of every detail and you have a recipe for confusion.
Some team members will be reluctant to tell you that they don't understand, so you have to go and check. Part of your job is regularly touching base with your people, so use some of that time to see if your directions are working out the way you and your team member expected. Then adjust as needed.
Phil Gerbyshak is a speaker and a trainer, who delivers programs on the power of technology, social selling and connection. With a unique speaking style—part technology and sales expert, part entertainer—Phil keeps his audiences awake and engaged while providing micro-tactics to help you get more leads, earn referrals, and improve your business. When he's not traveling, speaking, or making new connections, Phil writes. He's published 5 books, including 10 Ways to Make It Great and #TwitterWorks, more than 2,500 articles, and has been interviewed by the Wall Street Journal, USA Today, Financial Times, and more.
You can also connect with Phil on Twitter.

Photo Credit: Steve Snodgrass, http://www.flickr.com/photos/10710442@N08/4828932145