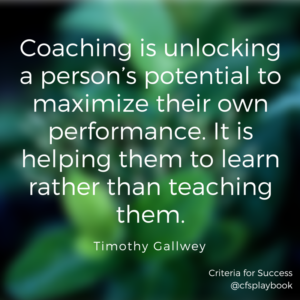 Coaching is one of your most important roles. When you do it well, it can also be one of the most gratifying parts of being a leader.
While I have long shared insights and helped others learn to be better coaches, I wanted to see if I could summarize the essence of coaching success into seven sentences. I didn't succeed. Instead, below you will find ten "rules," that if you follow will lead to your success, your employees success, and ultimately, the success of your organization.
Coaching isn't about the coach, the company or the customer. It is about the development and success of the person being coached.
Coaching isn't about advice or wise counsel. It is about new results and outcomes for the person being coached.
Since coaching is about development and improvement, the best coaches use the past to inform but focus on the future.
Since coaching is about the other person, the best coaches listen carefully and thoughtfully.
The best coaches know that discovery learning is powerful, so they ask more than they tell.
The best coaches don't have all the answers, so they learn alongside those they coach.
The best coaches are accountable to those they coach, helping them to be accountable for their improvement and great results.
The best coaches know that praise elevates performance, so they use it wisely, specifically and regularly.
The best coaches invest their time, energy and themselves in the people that they coach.
To coach successfully, the coach must believe in the ability and potential of those they coach.
I hope you see the power in the simplicity of these ideas, and the challenge of doing them well. If so, I have reached my goal. If you are new to leadership and want to take your skills to the next level, we offer our new supervisor training in the classroom and online. We offer a full session on coaching and feedback, too. Learn more!
A final note: As your coach at a distance, I want to practice what I preach and listen. If you have ideas and thoughts that would improve or extend this list, please share them in the comments below.